Sectional doors are functional and impressive solutions among the range of garage doors. They are constructed from closed-profile segments made of galvanized steel sheet. The filling consists of non-flammable, freon-free polyurethane foam.
Sectional garage doors are custom-produced based on individual customer orders.
The dimensions of the door can be adjusted to the garage door opening, where the height does not exceed 3000 mm, and the maximum width is 5000 mm. All structural elements of the door are made from galvanized steel. The walls of the door segment are composed of 0.5 mm thick sheet metal. In certain models, the sheet metal thickness reaches 0.7 mm. The filling consists of non-flammable, freon-free polyurethane foam, ensuring the safety and durability of the doors we offer.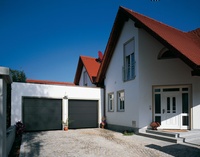 Of the additional equipment, electric drives are particularly noteworthy.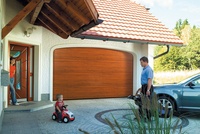 Even manually operated sectional doors open conveniently and easily, as
their weight is balanced by the torsion spring mounted on the lintel. Each
garage door can be equipped with an upper electric drive. Normally, the pull
force of the drive is transmitted through a chain rail. Alternatively, it can be a
plastic toothed belt (operating much more quietly). In case of a power outage,
emergency unlocking of the door will be a great convenience.
How to match the color of the garage door to the window color or building facade? With the help of Renolit wood veneers. In addition to the basic garage door colors, also available from many other manufacturers, we offer a selection of over twenty shades of wood veneers or painting the doors in any color from the RAL palette.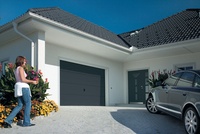 Not enough space to install a garage door?
For the installation of Interflex sectional doors, usually a minimum of 200 mm clearance above the lintel is required. If there is not enough space, by utilizing special guides for low lintels, 70 mm can be enough. The lateral mounting space is 100 mm per side. The construction of the door is based on a patented "easy click" system, allowing easy and quick installation. According to our assessment, the installation time of Interflex sectional garage doors, compared to doors of other brands, can be reduced by almost half! Each assembly technician will feel the change and immediately notice the improved quality of the door details.